Shopping Cart
Your Cart is Empty
There was an error with PayPal
Click here to try again
Thank you for your business!
You should be receiving an order confirmation from Paypal shortly.
Exit Shopping Cart
Q: How and when did you become interested in screenwriting?
A: First, thank you for the invitation to interview. I'm glad nepotism is alive and well (Ha, ha, but this is not nepotism! I am featuring my brother in the Author's Spotlight because he has done some incredible work.) Now to answer your question, it was an interesting process. I took a narrative screenwriting class because I had an idea for a script and, honestly, because I was looking for something to do in semi-retirement. I had never written a screenplay (or anything for that matter) and figured I needed to learn the basics. The class was incredibly beneficial for establishing a foundation for writing a screenplay. The instructor, Drew McCullough, liked the idea and I asked him if he'd like to co-write it with me. He did, and we wrote MUCK. The most intriguing aspect was to have created something that had not existed before. It gave me a sense of accomplishment.
Q: Your first screenplay—MUCK—was based, in part, on Marc, your best friend in high school, who died several years ago at 49 of a brain tumor. Tell us about that script and why it was a tribute to Marc.
A: It was. Marc and I loved to play poker. (For those of you like me who didn't know what muck means, it is a term in poker which most often refers to the discard pile where players may throw their folded hands, and the dealer places burned cards. It also refers to when a player is folding his hand (face down) without saying anything.) After Marc was diagnosed, we had thrown around the idea of writing a movie about two friends who end up winning the World Series of Poker…basically the Rocky of poker. Unfortunately, he passed away before we could write it so I decided to write it in his memory. My only goal was to write a movie that would honor him. I believe it did. Even though Marc was the initial inspiration for the screenplay, it was amazing how other experiences and people in my life were integrated in the script. Much like when I read your books, I see glimpses of our childhood or people we know in your stories. Writing the script certainly was a cathartic process and helped with the grief. I also came away with the realization that I enjoyed the creative process. And that's why I wrote the next script, and then others. Interestingly enough, I just revised MUCK. I wanted to update it with all I had learned since I first wrote it. The execution of the script changed but it was good to see that the core of the story was still solid.
Q: Two of your short screenplays—The LIGHT and The BRITTLE TROMBONE—have won awards. Congratulations! Tell us about the scripts and the awards they won.
A: Thank you. Two very different scripts. THE LIGHT, which just won the Southern California Screenplay Competition, was a tribute to our sister, Shari, who passed too soon. She truly was a shining light and I wanted to honor her. It's a story about love that manifests itself as an ethereal light that helps a Japanese couple survive and reunite during World War II. The script has done well. Every time it places or wins, it reminds me of how much of a role Shari played in my life.
On a much lighter note, BRITTLE TROMBONE just won the LiveRead/LA isolation screenplay contest. It's about a middling actor who forces his family to commit to his method acting style after being cast in a community theater production. I came up with the idea while I was cycling and an Amazon delivery truck was blocking the bike lane. The driver was carrying an odd-sized package and I thought, Amazon delivers anything. Well, to be honest, my first thought was get the F*** out of the bike lane. But that didn't translate well to the page.
Q: The Brittle Trombone was part of LiveRead/LA. Tell us what that was like to hear your script being read by professional actors.
A: It was a great idea the team at LiveRead/LA came up with to help screenwriters remain productive during these interesting times. Normally they do a live read in their studio. But for this contest they all did a virtual read from their homes. I was honored they selected my screenplay. It was great to see the script come to life with a read from a talented group of actors.
Q: It's always difficult to get the word out about your work. Tell us how your background in marketing helps you to connect with others.
A: My philosophy in marketing was always trying to get the right message to the right customer through the right channel. In adapting that to connecting with others in the industry, it is realizing that there are many channels to connect and promote yourself. Social media (Twitter, Facebook, Instagram etc.) has huge screenwriting communities with a good make up of industry professionals. Doing well in screenwriting contests offer avenues to gain exposure to your work. Screenwriting groups and organizations offer a combination of instruction and networking that help writers meet and interact with other writers. I was lucky enough to get accepted into Max Adams' 5150, an invitation only international online screenwriting workshop. This gave me the confidence in sharing my work with other writers and industry professionals.
And, the key is sharing your work. No one is going to know about you or discover your work if it just sits on your computer. So pick multiple avenues. You don't have to do them all but you can't rely on just one AND stretch yourself out of your comfort zone. You are the best one to talk about your work.
Q: What are you working on currently?
A: In addition to writing a TV pilot, 2ND RATE FAIRY by myself, I have teamed up with two fantastic writers Tonia Kempler and Al Finocchio through Bellem Entertainment. We are currently developing several TV and web series projects. MUSIC STREET is a music-related TV series. And another series that will launch soon, Gully and Finch. It's about two millennials stuck in failure-to-launch mode who pass themselves off as private detectives. It is exciting to co-write again after several years of writing on my own.
Q: Besides writing, cycling and physical fitness, what else should we know about you?
A: Honestly, much to the dismay of my mom and third grade teacher, I can't conjugate a sentence to save my life. Luckily for me, screenwriting offers a little leeway in that area.
Q: Where can our readers discover more of your work and interact with you?
A: They can visit my profile on CoverFly or ISA to read more about me and my screenplays. I am also active on Twitter. They can certainly email me at [email protected], but be aware, I've already invested my max in the Nigerian lottery so I just ignore those emails. Lastly, I very much appreciate the interview and I loved your newest book in the Samantha Church mystery series, On The Border…and that's not nepotism talking. It's a great book and I highly recommend it.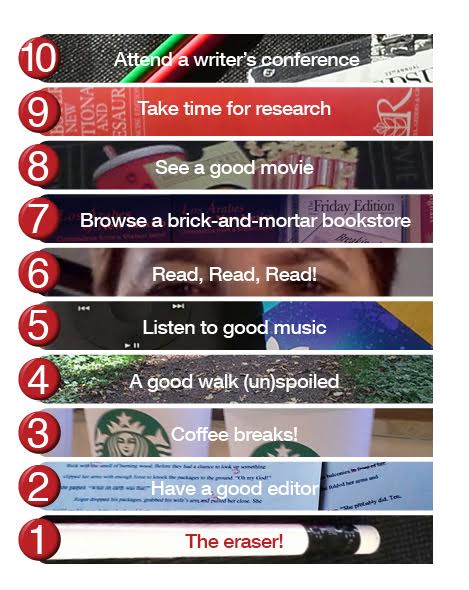 As a writer, there is perhaps, nothing more critical than having a good editor as part of your team. I have been blessed to be able to work with David Taylor of thEditors for the last four years. You can read a little bit about him and his business thEditors in this Q&A:
Q: What was behind your decision to start thEditors?
A: Myself and a few other authors got together and decided to form www.thEditors.com. Initially it was more of a Beta reading type of group. People loved the feedback I was giving and eventually one person offered to pay me for a developmental edit of her book. That was the first time I thought that there may be potential to make a living from this. Many, many years and several courses later here we are! Several editors have worked with me over the intervening years, and I have three people working with me now, Rachael, Kathleen and Kat. I'm also considering bringing in a fourth person for busy periods.
Q: What do you look for when you see a book project for the first time?
A: In general I look at a few basic things: • First and foremost – did I like the excerpt? • Do the characters feel real, or at least feel like they have potential? • Are there areas that I feel could be improved? • Is the plot cliché or does he/she have something unique? • What kind of standard is the writing itself?
Q: What you do for authors can often be a delicate subject, how do you work around that—specifically when a project does need a considerable amount of work?
A: Honesty is all-important. You have to say it as it is. People don't come to us to hear how pretty their baby is. People come to us to see how their work can be improved, to learn where they are going wrong and what they can do to fix it. For that you have to be honest. However, being honest doesn't mean being harsh or cruel. I always like to look for the positive aspects and bring them out; is there a particular character that is done well? Ok then, let's have more of him/her. Is there a particular plotline that is interesting/clever? Right, lets see how we can flesh that out etc. Then you highlight the weak areas, characters, plotlines and see what can be done to help. And, of course, there is the cutting. I often advise cutting thousands upon thousands of words from any given manuscript. I think once you give the reasons behind why various scenes/plotlines/characters need to go, the author will usually agree.
Q: What do you enjoy most about your job?
A: I love meeting new authors and chatting with them, but that aside, the developmental side of things is easily the most enjoyable aspect of editing a manuscript. My aim is to find a good book/excerpt and try to turn it into a great one. The more author interaction I get the better. I actually love the moments when I suggest something and the author does not entirely agree, but comes up with an alternative that neither of us would have thought of before.
Q: What aspects of your job do you enjoy least?
A: Proofing can be tedious, but many hands make light work! Also the 'slush-pile' as they call it, can at times be a trial to get through.
Q: We connected through Twitter, as we both follow each other. What is the most common way for authors to contact you?
A: We do get some clients directly off of places like Twitter, but recommendations and word of mouth are by far our biggest source of new clients. For a free sample edit send your first 3,000 words.
Q: You have written your own book. Tell us a bit about it.
A: Hah! I won't pimp it out here. I'll just say if you want to find it, it's not hard! OK, so Dave won't, but I will, you can find Shiri on Amazon.
I started my first job as a reporter July 10, 1989 in a small town in northern New Mexico. I had only been on the job for a week when I covered my first murder story of a man who had shot and killed a convenience store clerk as he robbed the store. He was found a short time later. He was arrested, eventually tried and sentenced to life in prison. Three months later, I covered another murder—a rancher had shot and killed another rancher over a land dispute. He was convicted of manslaughter. Both incidents, though unfortunate, allowed me instant and early access to police procedures and court proceedings.
In those early days, I didn't realize how invaluable my profession would become for me as an author. Now, more than 25 years later, I have worked in six newsrooms in Denver, Seattle and Albuquerque, and have written thousands of articles. I have won numerous writing awards, including two national awards for editorial writing.
I am also the author of The Friday Edition, Revenge is Sweet and Dead Wrong, an award-winning mystery series featuring reporter Samantha Church as well as a new legal drama, An Invincible Summer.
Being a journalist has been the perfect profession for me. In addition to developing my writing skills and a strict discipline of meeting daily and weekly deadlines, my profession has satisfied my curiosity, and has allowed me access to people and places that I would not have otherwise had.
When I came to Denver to work for my second newspaper, I covered the city of Arvada, a suburb of Denver and its police department. One feature in our newspaper—Cop Shop—required the reporter to visit the police department to review hundreds of police reports before selecting a handful of reports to be published in the coming week's edition. Doing Cop Shop gave me an intimate knowledge of how and why these reports are completed. Also, one of my best stories was an article I wrote about the department's property and evidence room, where I learned how illegal drugs were stored and eventually destroyed. I also went on ride-alongs with police officers. It was at this Denver newspaper that the ideas for my mystery series began.
My main character Samantha Church's experiences in the first three books and in the ones that will follow are taken from my many personal experiences as a reporter. In The Friday Edition, Samantha must get through a corrupt police department to discover her sister's murderer. I modeled my fictional police department after the 'real' ones I covered. I also met and became good friends with Russ Cook, who was at the time I worked in Denver, police chief of the Golden Police Department (he has since passed away and one of his last jobs was as the sheriff of Jefferson County when the Columbine school shootings occurred.) I asked Russ countless questions that related to police procedures for The Friday Edition. He also read the book to make sure the story was realistically told from the police procedural standpoint.
I got the idea for my new book, An Invincible Summer, AIS, after a meeting and becoming good friends with a woman at my first newspaper in New Mexico who had a severely handicapped daughter. AIS is the story of Jaime Monroe, a young attorney who accepts a case of a young woman with a mild mental disability whose mother, a journalist, wants to have her forcibly sterilized. It was the close relationship I formed with that mother and her daughter that became the impetus for AIS.
While working in Denver, I was also fortunate to meet an attorney and another woman who had a child with a disability and shared my thoughts and ideas for AIS with both of them. She had several good ideas that I believe improved the story, especially how I should portray the mother in AIS. The attorney also answered many questions that related to the hearing and read that section of the book to make sure it was accurate.
I continue to work as a journalist today—always prepared (and hopeful) that with the next story I cover, I am going to stumble onto another (great) new idea for another book.
I was working at a newspaper in New Mexico when I met Brenda, a mother who had a severally handicapped daughter, Jenny. Jenny also had an extremely cruel and rare form of epilepsy, which would eventually claim her life.
Brenda had just moved to New Mexico from Kentucky and there wasn't a Special Olympics chapter in this new town. Brenda wanted to start a new chapter so that Jenny would have something in which to participate. I interviewed Brenda for the story and became good friends with her and Jenny's Special Olympics coach. I learned many things from Brenda about raising a child with severe special needs—namely, not only the challenges, hardships and disappointments that come with raising such a child, but the joy as well. One day Brenda and I had a conversation about sterilizing people with mental disabilities. Brenda told me that when Jenny was old enough, she would have her sterilized. I remember thinking of a storyline that involved forcibly sterilizing a young woman, who had a mild mental disability, and what could possibly happen because of it. In my story, Ashleigh Roberts, the daughter of Leigh Roberts, is that child. Ashleigh's relationship with attorney Jaime Monroe, the main character in An Invincible Summer, is loosely based on my relationship with Jenny.
For my story, I knew that Ashleigh could not be as mentally disabled as Jenny. Jenny had a limited vocabulary and though Jenny could have eventually gone on to live in a group home, she would have never been able to live on her own, as Ashleigh is able to do in An Invincible Summer. Jenny was 13 when I met her. Ashleigh is 24. Having a mild mental disability is not reason enough for a court to grant such a petition. Ashleigh also has a mild form of diabetes and that is the primary reason Leigh wants to have the procedure done because she saw it as medically necessary. What I also tried to do in An Invincible Summer was portray the kind of challenges Leigh Roberts had to face as Ashleigh's mother.
Brenda was always open-minded when it came to Jenny, willing to do and try just about anything to make Jenny's life as normal and happy as possible. That's how Leigh is with Ashleigh. It is my hope that readers will see Leigh not as a heartless, selfish mother, who wants just to have her daughter sterilized, but as a mother who deeply loves her daughter and wants only the best for her.
/